Back with more product reviews! More face care and I'm stepping out of my comfort zone with dresses too. I haven't owned a dress since I was able to pick my own clothes. Until now. But first….
Dead Sea Collagen Anti Aging Facial Mask By iBeautyLabs
#iBeautyLabs #facemask #Beautytips #Lookyounger #Beautifulskin #Facemask #DeadSeaMask
About the product:
5 masks per pack
DEEPLY MOISTURIZING COLLAGEN AND DEAD SEA MINERALS AND VITAMINS BLEND: The iBeautyLabs Dead Sea collagen mask is made of finest quality, 100% safe and extremely effective bio ingredients which deeply hydrate and nourish the skin. In addition, the 98% absorption rate assures maximum results in minimum time.
MINIMIZE PORES, FIRM AND REJUVENATE YOUR SKIN: This Dead Sea spa moisturizing face mask can properly hydrate your skin, as well as deeply cleanse and detoxify it, leaving it silky smooth and glowing. What is more, it can tone and firm your skin, helping you erase aging signs and blemishes including wrinkles, fine lines, acne and pimples.
NO MORE MESSY, RUNNY, INEFFECTIVE CLAY MASKS FOR YOU: Stop wasting money and time using cheaply made clay and mud masks! This Dead Sea and collagen anti-aging, skin care facial mask can be used by beauty experts, professionals and women who like to take proper care of themselves. The high quality and the low cost give you the chance to indulge yourself to the professional beauty care at the comfort of your own home in 20 minutes, eliminating the need to visit beauty salons!
THE PERFECT GIFT FOR EVERY WOMAN: No matter what your age or your skin type is, this Dead Sea minerals moisturizing face mask is ideal for you! Apart from making it yours, you can also offer it as a gift to a friend, a family member or a colleague. In addition, the pack of 5 allows you to organize a gathering and spend the afternoon taking care of yourself. Last but not least, the individual packs allow you to effortlessly carry your beauty care mask anywhere you go!
100% RISK FREE PURCHASE: Keeping you satisfied and providing you with the friendliest customer service is our number one goal. This is why we stand 100% behind our products, assuring you that making this collagen Dead Sea spa skin care facial mask yours is entirely risk free.
I agree with all those check marks!
I don't have pictures of myself to put up, because well, I hate my appearance and would prefer to stay anonymous. I really hope you believe me when I say how huge my pores are and how this mask worked to shrink their appearance. I did it on my Sunday night before returning to work and it lasted until my Wednesday night when I did it again.

I was so worried about having to lay down and apply it so it doesn't slip off. I'm always doing something at home. There's too much to do to lay around. Having to put it in the fridge and being forced to lay down really helped me relax and feel pampered. If you have trouble making yourself stop and take a break, these are a great idea!
The directions suggest doing it 3 times a week and I totally see that working, but only twice might be necessary because it's so effective. I was able to get a deal on it for my first buy and review it, but after that I'll be paying regular price of $25 bucks a box for 5 masks. It equals out to each mask being worth $5 and I think it's totally worth it. I just don't know if I can spare that much money for a luxury so consistently.
I WILL be ordering it whenever I can though and highly recommend everyone with large pores and uneven skin to try it out. It's only sale for $15 right now and it's just a steal!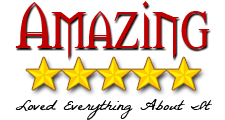 Klicky Women's V Neck Lace Vintage Maxi Dress with Cap Sleeve
Free Shipping for Prime Members & Free Return on some sizes and colors
Size Chart:
Small:Bust:33-34″,Waist:25-26″,Length:52″
Medium:Bust:35-36″,Waist:26-27″,Length:53″
Large:Bust:36-37″,Waist:28-29″,Length:54″
X-Large:Bust:38-39″,Waist:29-30″,Length:55″
XX-Large:Bust:40-41″,Waist:31-32″,Length:56″
XXX-Large:Bust:42-43″,Waist:33-34″,Length:57″
I fell in love with this dress when I saw it. Badly enough that I just had to have it. Do I own a dress? No. Do I need a dress? No. But so pretty! I FELT so pretty.
It felt AMAZING. I love this fabric and the lace pattern. It was swish-y and sleek and comfortable.
The only problem is I've gotten bigger. I swear I've always been a 2x, and I've ordered up to a 3x for the dress and yet…It was tight around my chest and arms. My boobs just look ridiculous! The side stitching didn't hold up to my expansion, though the rips are minor.
I hope it's just having to size up twice for this particular brand and dress. *crosses fingers* I'm sure by the time I actually need to wear it, I'll have gone back to my typical size. I get back down only so far in sizes before going belly up. (heh)
They do have a slightly different style that might be better for us top-heavy apples.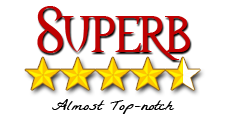 Knee Length Patchwork Women Dress Elegant Tunic Female Work Dress Plus Size M- 4XL Bodycon Pencil Dress Vestidos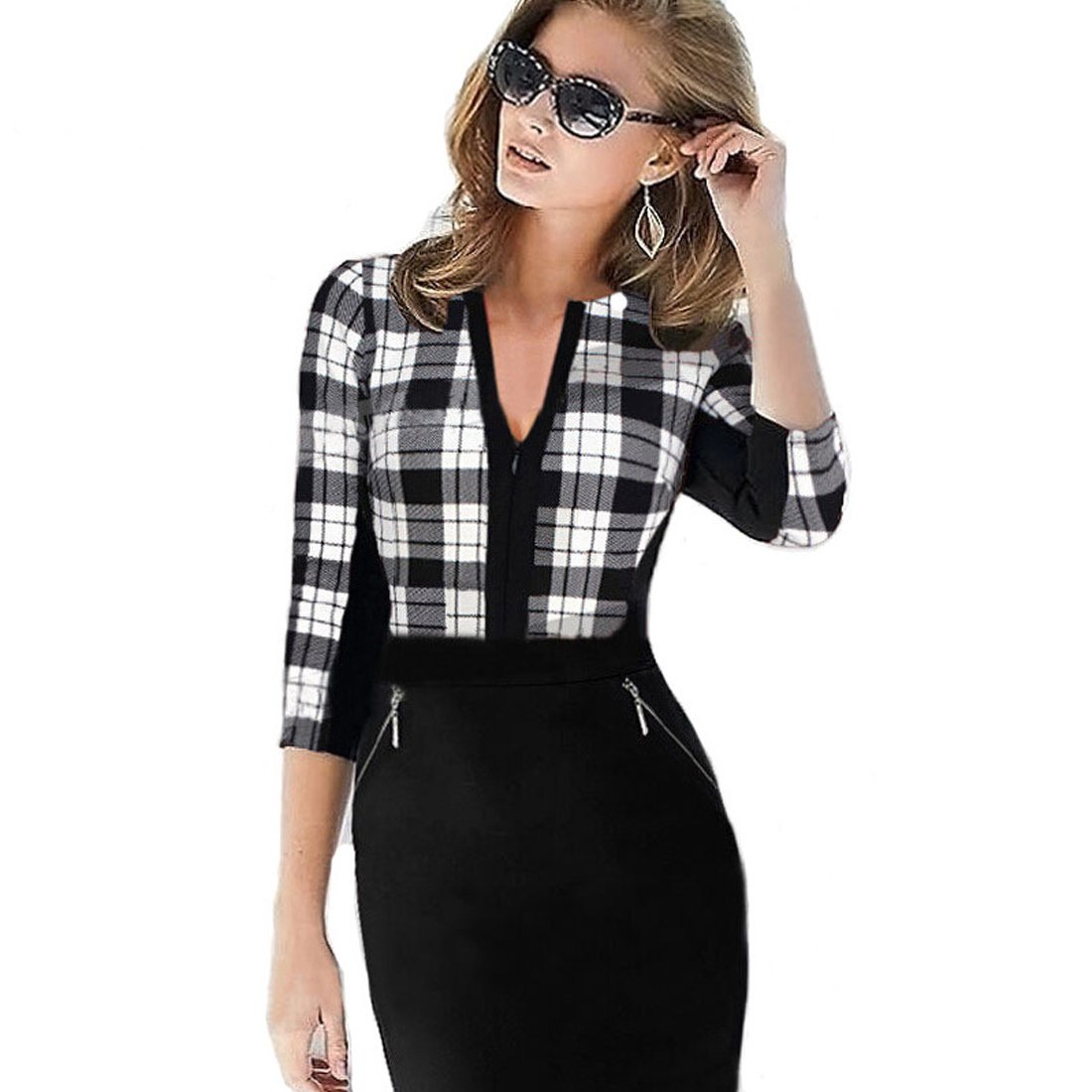 Free Shipping for Prime Members & Free Return on some sizes and colors
This one looked cute, has plus sizes and I figured if I'm going to try dresses I should try something I can wear to work. Something that will make me feel cute and professional.
Too bad it didn't fit! This time I ordered a 4XL and I swear to you, these sizes just aren't right. I could theoretically get in the dress, but my chest and arms were about to burst through like the Hulk. It was so tight and uncomfortable, I peeled it off and returned it right away.
There's only a couple of other reviews right now, and they all agree it runs incredibly small. Here I was thinking two sizes up would be just fine…
Those pictures with the thread coming out? All right after I took it out of the package and before I tried it on. I can't attest to how long the dress will last but thought ya'll should know.
If you're willing to try it, pay very close attention to the measurements and then give MORE leeway for it's smallness.
So far, I've struck gold with a facemask and struck out with two dresses. Oh well, can't win 'em all.
That's what I've been trying out for the last week. Have you tried anything new lately or have anything you're anxious to try? Let me know below!
Related Posts